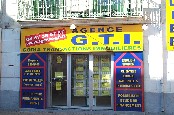 FEW VALUATIONS FROM CLIENTS

TONY & MARY from IRELAND, 2012.

"We recently purchased an apartment for our retirement in Saint Chinian. The help and encouragement we had
from Philippe and Helene at Agence GTI was second to none. The service they provided was above and beyond
what we would have expected or hoped for. They guided us gently through our frustration (caused by our lack of French),
helped with translation in the buying process, recommended a very good builder, and remained cheerful throughout.
We recommend them highly; they made the whole process a joy."
---

Tina and Alan Hall, England, 2011

We were so very pleased with your professional service when we placed our house on the market last January.
Our house was sold to the first viewer in less than a week. The service we received was friendly, concise and
extremely proficient. We had very good help and guidance with any issues following the initial sale and for that
we are extremely grateful . The sale went through without any problems so may I say- thank you once again.
You are to be highly recommended. Kind regards Tina and Alan HALL

---
Simon & Kiran, England, 2011

I genuinely cannot recommend Philppe & Helen Godia at Agence GTI enough! They looked after our purchase
from initially selecting the property, patiently showing me everything I had asked to see, & openly discussing my needs,
and suggesting the types of properties I hadn't thought we would really consider. We eventually bought a fabulous place
that we would not have even considered if it had not have been for Philippe understanding the market & our needs!
Throughout the whole purchasing process Philippe & Helen made themselves 100% available in helping me with
any & all questions I had at any time by phone & email, right down to post sale, in helping get the various services
connected & direct debits set up, and suggesting builders & decorators. Philippe's command of english is great,
his Languedoc knowledge exceptional, and they both made myself & my wife feel so welcome, and because of this
they kept the whole process exciting, and nowhere near as stressful as I had anticipated. It felt like we had made a friend,
not just an agent, because Philippe is a straight-up professional, and a really nice guy!! If you are a UK or European buyer
looking in this lovely, & still very rural French area, then Philippe & Helen should absolutely be your first & probably
end up being your only stop! Simon & Kiran
---
N.L, England, 2011
When I decided to buy a house in the Saint Chinian area I was impressed with the professional and
helpful manner of Philippe Godia at Agence GTI. He and his wife provided excellent support and help
throughoutthe purchase and organised water, electricity and telephone contracts for me. I would have no
hesitation in recommending Agence GTI.

---
Monica, Irland, 2011

I bought a house from Agence G T I in St. Chinian in 2001. For the next ten years Philippe Godia the proprietor
and his wife were like good friends to me. Any problem that I had, for example getting tradesmen or dealing
with insurance problems they were always ready to help. When reluctantly I had to put my 'lovely but quant' house
on the market of course I put it with Philippe expecting that in the current economic climate the chances of it selling
were pretty slim. However to my amazement, within 3 months, he not only had found a buyer but someone who fell in
love with the first house they were shown....mine! Philippe knew exactly that my house would suit this client and
having met the buyer I know that they will love the house the way I did. It wouldn't have suited everyone I know that
but Philippe got it absolutely right in his matching buyer to property. The sale was handled very professionally by Philippe and his wife with very little input from me. I could not believe how easy it all was, especially as I was not in France at the time
of the sale. Philippe went way beyond the call of duty to facilitate an easy exit from St. Chinian for me, even trying to
find a buyer for my car. I would recommend Agence G T I to anyone buying and selling property in the St. Chinian area
especially as I have had very bad experiences with estate agents in the past. If you want to deal with a company
who are efficient, customer -focused and whose integrity is beyond doubt go to Agence G T I !
---

Mark and Lori, Canada, 2010

After researching the Languedoc intently online I randomly took the plunge and flew over to the Languedoc.
With very little time I drove all over the Languedoc and as I left Beziers when I got close to St Chinian I found the "France"
I had been searching for. I found Philippe's (GTI) office in the center of town and spoke to his wife Helene and
explained I had very limited time and could someone show me some houses in the village. Although Philippe was
very busy with appointments Helene very kindly made room for an appointment with Philippe for the following day.
Philippe listened to my list of wants and my very limited budget and showed me three houses he thought were the best
options and told me why. He was absolutely spot on with the houses he showed me and was not pushy at all.
He also had good knowledge of the work needed on each house. I fell for one of the houses and put an offer in
within the week. Philippe and Helene were and are extremely professional, kind and knowledgeable and are completely
in tune with the market and area they serve. I wouldn't hesitate to recommend Agence GTI to anyone thinking
of buying property in the St Chinian area.
---

Deidre and Jacques, New Zealand

We visited St Chinian for the first time in January 2009, after several earlier visits to the South of France
. We were immediately impressed with the charm and atmosphere of this village in Roussillon-Languedoc
and decidedto look at possibilities of purchasing a house. We were equally impressed by the warm welcome given
us by Helene and Philippe Godia at Agence GTI. They went out of their way, in a very short time, to show us houses
that were appropriate to our budget and needs. Well after purchasing and settlement of our new house Helene and
Philippe have shown a professionalism which extended well beyond all expectations. They willingly continue
to dealwith everyday issues that are impossible for us to handle from as far away as New Zealand,
Land of the Long White Cloud. Deidre and Jacques

---

From: Ernie and Carole, Cape Town, South Africa

After visiting St Chinian several times we were delighted to be able to finally buy a house.
We have visited many parts of France but the Languedoc and St Chinian in particular are our favourite places.
Philippe and Helene Godia made the whole buying process stress free. Their after sales service is also great.
They have both been very helpful, organising builders, electricity and water and certainly go beyond the normal
services expected of an estate agency.
---
From: Janice and Stafford, Saint-Chinian
When my husband and I wanted to buy a house in or around Saint Chinian we consulted a few estate agents in the Herault.
We soon found out that GTI - Mr Philippe Godia and his wife Helene - were the experts on this area. We also noted
that his Estate Agents' commission on purchases was the lowest that we found - and that's important. When Mr Godia took
us to see a house, he didn't try to make it seem better than it was. He pointed out what needed doing or finishing and we
discovered that his estimates of how much it should cost were pretty accurate. He also helped us during and after the
purchase and even got the phone installed for us and also sent his father round to show us how to light the boiler! Helene
made a medical appointment for me when I needed one. As neither of us spoke much French when we first arrived - only
English and Italian - we found their help invaluable. There's nothing like a local born and bred person showing you the ropes.
This is a beautiful region and we have thoroughly enjoyed the eight years that we have been here so far. And we are now living
in the third house that we've bought in this area! It's all very different from London
---
Lesley and Grant, New Zealand
St Chinian has proved to be the perfect location for our holiday home and we are grateful for the services of Agence
GTI in St Chinian. Philippe and Helene Godia were extremely helpful in facilitating the purchase aof our charming village
house and also in negotiating the many extra formalities and requirements of setting up house in France. Their personal
service and attention to detail make Agence GTI stand out from the rest. For us, they have helped make the move from
New Zealand to France pretty stress free.

---
From: Vicky and Glyn Smith, Lincoln, England
As we all know buying a house is stressful at the best of times,buying in another country and in another language can be
a minefield. We have been coming to the south of france for years and totally fallen in love with it and the way of life,
so we finally decided to buy a house and make that move. We chose the area around St Chinian, an absolutly beautiful area
and close to everything you could possibly need or want. We looked around the estate agents and on the web for properties
in the area and finally found the house of our dreams on the Agence GTI St Chinian web page. So off to the agents office we went...they were closed,a note in the window said they were closed for a fortnight,going to be a long fortnight waiting, luckily
a friend of ours who lives in the area saw philippe,who owns Agence GTI,picking up his post and had a word with him
about the house and us, he took a day out of his holiday and met us at the house on the following monday,we loved it made
an offer and had it accepted. That was the easy part done. Buying a house in france is so different than it is in the uk,they
have many things to look into just to protect the buyers so patience is the keyword through the whole process and thankfully
Philippe had plenty of this. Even though we have a good grasp of the french language philippe guided us from start to finish in
his near perfect english and was a godsend with all the paper signing the 1st in his office and the 2nd at the notaries, every
single thing is gone over and explained to make sure you are safe in your purchase, the house was now ours Now we needed
the water and electric switching on, philippe had already offered Hèlènes help with this,so we took them up on the offer on
the friday and we had both on by the monday, philippe even went up to the house at lunch time to see if everything was ok
and phoned me to let me know that Glyn might be late back depending on what time the electrician turned up. Philippe and
Hèlène who own and run Agence GTI in St Chinian went out of their way to make the whole process as easy as possible,
in france, and we will always be most grateful for their help and advice. If we ever decide to buy another property or
perhaps some land we will definatley use them again.
---
From: Markus, Koudekerke, Netherlands
"In 2008 we bought our house in Pierrerue through GTI agency. The sale was hassle-free and without any negative surprises.
Equally important, both Mr. and Mrs. were very helpful after the sale. This concerned the recommendation of an architect,
names of building contractors, a helpful phone call to the EdF and general information that made the start of our life in
the Herault just that bit easier. In short: after-sales-service as it should be.