REAL ESTATE G.T.I. 
Saint-Chinian, in Languedoc.
         

         
EXTRACTES  FROM OUR PROPERTIES CATALOGUE
         Translation provided for information only (not an official translation)
The following examples constitute only a partof the properties on our lists and we would
 strongly recommend that youcontact us with the details of your requirements to enable us to 
better match your specifications.
         
         Please confirm with us the current availibility
         of the items listed below.

  PAGE 1  PAGE 2  PAGE 3  PAGE 4  PAGE 5  PAGE 6  PAGE 7 
---
In Cebazan pleasant village in Languedoc at only 8 minutes from Saint-Chinian
and 25 minutes from Beziers. You will find a baker, post office, bus line, school.
We offer you this nice 2 bedroom holyday home.

Living room, dining room with a fitted american kitchen,
2 bedrooms includind 1 type mezzanine, shower room with a toilet.





Nota Bene: very quiet location and in a mive in condition.
Living space about 56 sq m.

PRICE: 55 000 Euros
Agency fees included VAT are payed by the owner.

Réf: M 3127
 


   

   

   



---
For sale in Saint chinian at 3 bedroom town house with a garage.
This village offers all the amenities and is situated
only 30 minutes away from Beziers and its airport,
1 hour and 15 minutes away from Carcassone aitport
and 1 hour and 10 minutes from Montpellier.
Ground floor : entrance, a garage. First floor : kitchen and a living room corner.
Second floor : 2 bedrooms including 1 without window, a shower room, a toilet.
Third floor : an attic and a bedroom without window.

Nota Bene: double glazed windows with electric shutters,
2 reversible air conditioning units, quiet location, garage 20 sq m.
Living space about 54 sq m.

PRICE: 65 000 Euros
Agency fees included VAT are payed by the owner.

Réf: M 3121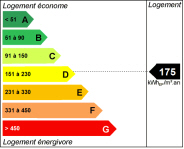 ---
For sale in Babeau Bouldoux at 10 minutesaway from Saint Chinian and its facilities:
A barn / garage with a land attached of 520 sq m.
This village is also provided by a baker'van, butcher's van...
There is no water, electricity and public sewer but
there are situated just in front of the barn.

Nota Bene: the barn is approx: 96 sq m.
The roof is high enough to have the possibility to create another floor.

HAS BEEN SOLD BY US
HAS BEEN SOLD BY US
PRICE: 65 000 Euros
Agency fees included VAT are payed by the owner.

Réf: M 3079
  

  




Non soummis à DPE
---
***We also propose you building lands around of Saint Chinian, Cessenon...***      
    ***Do not hesitate to contact us to know if lands are available and for details...***      
---

PAGE 1  PAGE 2  PAGE 3  PAGE 4  PAGE 5  PAGE 6  PAGE 7